I had looked forward to the WEG with great hope, enthusiasm and anticipation. And while I found some inspiring things, they were not in the areas that I though perhaps they would be or should be.
Part of my brain is surprised by this. Part stunned that the stupid half of my brain still doesn't get it and holds onto the sliver of hope that one day international will regain its collective honor.
I have made a conscious decision to accentuate the positive in this situation. So let the accentuating begin…… I'm trying very hard not to be a Debbie Downer.
Inspiring to me was the wonderful saddleless and bridleless demo by Stacy Westfall. Now while riding bareback and even bridleless is no great thing in and of itself, the two simultaneously in such a large, loud, charged venue is something to be quite admired.
Quite frankly every rider should be able to do this, or do something close to it. Every rider should be able to at least take their horse into a familiar ring, with the right conditions, and be able to pull off walk, trot, canter without getting killed given adequate exposure, diet, training and trust.
The greatest display of the true meaning of dressage I found in a cross country rider named Rebecca Holder riding her grey horse Courageous Comet. The fact that we are both from the USA is purely coincidental and played no part in my admiration, though it is kinda cool.
This team won my heart during the cross-country phase due to their harmony. Perhaps a part of the reason is that this rider isn't built like the svelte blonde stereotypical advanced riders you see. In fact, the lady is beefy and for some reason I found that quite refreshing and admirable considering the stamina it takes to ride such a course. But mostly it was because for every stride and every jump that lady and her horse were ONE. No deviation, no momentary hiccup. And her horse's expression showed it.
Lovely.
Although she withdrew from later competition, she and her OTTB now have a place in my heart.
Admitttedly, I didn't watch every ride of every event. Although I DVR'd the TV shows and paid the thirty bucks for the online Universal sports coverage it was only days before I found myself bummed out by much of the riding, most notably in dressage and reining. Truly a hyperflexion heaven disappointed me profoundly.
Clearly the WEG riders warming up had decided they were going to do what they wanted to do in full knowing that no one was going to cry foul, unless of course there was blood. Eventually there was blood and a disqualification followed but that's besides the point.
So I did what any self respecting big mouthed blogger would do. Or at least what this self respecting big mouthed blogger decided to do. I went riding. I did cleaning. I did everything I could but watch the rest of the WEG. I removed myself from the chatter, then went back in to view with fresh eyes. I found that my fresh eyes, and old tired eyes saw the same thing… force, domination, unhappy horses.
Yes, Tortilla looked happy enough, but he was incorrect enough to negate that. His extended trots didn't happen as they should, and I wondered if there was a reason for the conservative execution of them. Was it me or did it seem the line blurred from time with the trot? There seemed confusion as to whether it was a trot or passage or perhaps some new gait called "trossage".
So, after weeks of staying away and not blogging but rather doing fall cleaning and organizing, paying bills and whatnot I have finally decided how I feel about all of this and has decided my position on such matters.
Not that anyone would care mind you, but if you do, read on.
My position is: It doesn't affect me.
It also doesn't affect every other rider who wants to use a better standard, one that they can live with within their own morality, in their riding. Of course those that prefer such means as what is seen in the horse show world will profoundly affect the horses ridden within that method, but for me and others like me, the world and our training objectives carry on.
The FEI and the like are moving farther and farther away from me, and me from it. With every demonstration as to what that community feels is justifiable, I am repulsed further away to pursuit differing dressage and riding avenues. I don't want a horse whose head is positioned so as to sniff his own pits or nibble at his chest.
It also occurs to me (based upon the standing ovation for Juan Manuel Munoz Diaz and Fuego XII) that a huge part of the audience just might be feeling the same way about things. That audience, along with countless of later viewers on the internet, sung the praises of this team and were quick to forgive the few errors. That audience admired that combo so much that they leaped to their feet in a sudden and stunning display of admiration, inspiration and appreciation.
Can it be that THAT crowd wants change too?
It is also apparent that the residents of Mt. Olympassage (like the great god Sjeus) are perfectly happy with the status quo. They don't want to change a thing and are maneuvering skillfully to make sure they prevail.
The FEI also doesn't seem to mind at all, along with the folks at WEG, who after the brave act of disqualifying bloodied tongues, didn't say boo squat to all the horses being warmed up in various degrees of torture… errr hyperflexion.
It therefore is becoming increasingly apparent that another equestrian venue is required to accommodate the wishes of a worldwide audience. A "Dressage As Art" venue as opposed to the current "Dressage As Sport". I'm also going to bitch that after watching a lot of the reiners, maybe "Reining As Art" should be next.
In "Dressage as Art" there could be scoring, placing, competing and judging but with a closer eye to more acceptable riding practices.
Sort of like Olympic Greco-Roman wrestling as compared to Hulk Hogan type wrestling. The Hyperflexors could even borrow Hulk's pink feather boa if they would like to add a little "sumpin sumpin" to their performances. I'm 91% sure this would work.
With all this on my mind I rode my horse this weekend. Never did I feel more compelled to ride with finesse and lightness. Of course I'm just of the herd of middle aged female dressage riders trying to ride more graciously with our horses and from what I see, it's really becoming all the rage.
We ammies just eat this shit up.
I'm happy to say that my horse gave me as much as his present conditioning would allow and in the end he was so forward and so strong I really had to work my body to contain the energy as opposed to using the reins to do so.
I loved the opportunity to test my skill and I could see by the horse's reaction where I performed well and where I needed work. However, considering how infrequent my rides have been, coupled with the active winds and cool temperatures, my horse was so into the ride that it seemed impossibly magical, and it was actually easy at many points.
Like butter.
Now we are riding no where near FEI level but with these rides I got a sense that if I were to ride consistently correctly, and train more often, that we'd progress by leaps and bounds as if overnight.
It left me happy and wanting more, and more desirably it left my horse wanting more too.
Now isn't that how you're supposed to feel?
It sure is nice to win at shows and even nicer to win at big ones. But I have no doubt that I, along with innumerable others, would rather have great mid level rides on their horses than forced, domineering rides that are apparently necessary (or at least seem to be so) in what currently is masquerading as dressage competition.
Given this, I'd like a place to go and show before a judge so that our progress can be expertly critiqued according to the standards I and many of like mind, hold dear. Of course this would require a judge unimpressed by anything less than correct and the proper venue in which to place said judge's ass and the judge would need the guts to score folks as they should be scored, even if those folks didn't like it.
Then you'd need the herd of middle aged women to fill the class. Of course you would fill the classes as we love torturing ourselves.
As for venues such as the WEG I find myself in a stage of continual distancing. I'm distancing from the FEI dream and I'm drawn to find new sources of learning a la Walter Zettl. I've been checking out Manolo Mendez with great enthusiasm and will be attending/organizing clinics in the future. Although he could never, ever be duplicated I would like to find a bit of Zettl in Mr. Mendez. In this regard I'm checking out other notables like Dominique Barbier and I plan on soon studying some things new to me, like Cynthia Royale (trainer of Shadowfax – Blanco from Lord Of The Rings) in addition to others I've previously written about.
So far each has given another piece, and I'll be paying attention to all of these folks some more. So far, and for the most part, I've liked what I've seen.
For now, I'm not renewing any memberships until I see more of what will happen in the future. For now, I'm going to take my hard earned money and direct it to those who teach a better way.
I never did understand those riders who never show but still somehow mysteriously advance. Now I do.
Now I do.
See, I DID learn something from the WEG!
I received this comment in my comment section and I thought it worthy of specific mention. Mostly this is due to the fact that the word "Revolution" was in the title, as that word clearly indicates how I'm feeling after recent events. I'll be posting more on this but in the meantime, warm up your gums with this.
Now I haven't looked into the site yet, but I will later, but it seems to be something worthy of at least discussing and investigating.
From Erin Martin:
I am developing a mailing list of like minded rider/trainers/competitors who are passionate about preserving the principles of classical dressage. Check out my posts, and if you like what you read, I hope you will help me to promote it. My goal is 100 subscribers initially. Link broken
I am writing this to you to tell you how very special you are to me. When I found out you had passed from that sudden heart attack a short time ago I felt awful, and continue to feel rather melancholy. I'll miss you, ya big lug. You know, you were definitely too young to die.
I know it makes no sense to write and post this on a blog as heaven may have many things, but I'm thinking an internet connection is not one of them. In a place of infinite wisdom, it's probable that the internet is not needed as all the knowledge of all the ages is already there.
When I moved from the barn you managed we hugged goodbye and you told me how sad you were I was leaving because I was one of the "good ones". Well, you were one of the "good ones" too.
But as senseless as it is to post this online, my heart tells me to honor you in some way, and this was the best my feeble mind could come up with. I guess sometimes we just need to get stuff off our chest, even if the reason for doing so is a bit silly. But you know me, silly to the end. In fact, that was one of the things you liked about me, always wanting to have fun and always being a goof.
I came to your barn not long after my horse had undergone colic surgery and when I moved in, you listened patiently to what I had to say. You made sure the vets advice and suggestions were followed to the "T" and you kept a watchful eye over my horse.
In those years that passed you caught the little belly aches (which no longer happen thankfully) and you took care of my horse when I wasn't able to be there because of work. You treated untold numbers of abscesses and when my drama queen horse got a piece of hay stuck in his eye and it swelled shut. You gave him his meds every day, in fact several times a day. We both joked how silly it was to amass a one thousand dollar vet bill for some miniscule piece of hay. You always made sure to be there for the vet, with me or alone, as you had a true, genuine interest in my horse's well being.
You held my horse a million times for shoers and vets and never complained. Every time I saw you I'd see you smile, glad to see me. That was always a good, warm feeling.
Together we laughed at all the torn blankets, disappearing halters and tossed shoes which fell victim to my silly horse. The day we watched my horse tearing around the ring, flat out running with his hind legs passing in front of his front legs, you turned to me, pointed and started laughing your ass off. I laughed too and turned to you and said "I ride that?" You know, I never told you, but seeing him run like that I got a little scared. Just for a second though, as once I swung my leg over his back, he was a perfect gentleman.
You understood the nature of my horse and were never put off by it. You always did the right thing, by me and him, even to the point of changing flat trailer tires so we wouldn't be late (again) for a lesson. In fact, you've done so much helping me with trailers and their mechanical issues that I would have been lost without you.
Do you remember the day of the trail ride and barbeque? They had the auction for the shiny jeweled western buckle you had your eye on. And because you had earned it with all your help, I made sure I bought it for you and I outbid all those other people! But there was no way, no how, you weren't going to get that buckle. You also earned every single penny of those Christmas bonuses, strawberry cheese cakes and any other silly thing I did in my feeble attempt to repay your kindness.
I'll miss you dear, kind Bill and I hope your place in heaven is full of your beloved horses. I'll pray for your loving wife (your soulmate) who is left behind. One day, when I too pass, we'll go for a trail ride in heaven and we'll joke and make fun of all the people from the old place.
Many wonder of the definition of a "true horseman". Well Bill, you ARE the definition of a true horseman and also a true friend. I can give you no greater tribute.
God speed, God bless. Take care of yourself up there.
Your Friend,
Dressage For The Rest Of Us
Never before in horsey history has an equestrian had such access to the abundance of information regarding horses, their care and the art of riding them. The internet has put forth many voices and all sorts of tools to further one's equestrian experience and education.
With my own personal journey I've gotten the opportunity to speak with a myriad of people from all over the world. Even the writing of this silly little blog has opened up learning opportunities which have me surprised by virtue of the sheer magnitude of connections.
Sometimes there is no way to predict in which direction our attentions will be directed. One of my latest discoveries is the existence of the webinars I found on Facebook and so far, I have found them most enjoyable.
The other day I was taking a break from life and its responsibilities and was watching television. Showing on my nice big HD screen was one of the four billion replays of a Lord Of The Rings movie, "The Return Of The King". In it, the wizard Gandolph rides a magnificent horse, the king of horses, by the name of Shadowfax.
I found myself watching not from a mere entertainment aspect of the movie, but specifically focusing on Shadowfax and the scenes he was in and what he had to do in those scenes.
In one part Shadowfax (whose real name is Blanco) was galloping up steep rocky steps, bridleless, with the actor playing Gandolph grasping a piece of mane (or maybe a neck rein) and going along for the ride. A few thoughts crossed my mind.
First off, was the fact that were it me I would be half scared to death of my horse slipping from the unprotected sheer drop side of the stairs and both of us plummeting to a sad end. This is mostly because my horse has the tendency to be a klutz.
The second was that my horse would probably trip over his own feet trying to pull of such a move. A mountain goat would have the necessary agility to pull off the move but I have no doubt that my horse does not. Agile, he isn't. Athletic yes, agile no. In fact, when he was a young horse if he ran too hard in the arena he would promptly slip and fall on his side. I witnessed him doing so a handful of times. Thankfully, with age and increased balance and a maturing mind he hasn't done such silly things for just about a decade now, but his lack of agility still sticks out in my mind.
So there was the beautiful Blanco – Shadowfax pulling off all these stunts and such, (bridleless) yet with a look of splendid grandeur and nobility. He looked just like you would imagine the King of Horses to look. If only our show horses looked so grand!
Well lo and behold the next day or two I'm doing my Facebook thing and whom do I come across but Shadowfax and his trainer's page. I clicked "like" and left a message. This began a little bit of conversation and now when opportunity presents I'm going to listen to the lady and see what she has to say.
If I had to guess, I'd probably learn a bit, but realize a lot. Sometimes, you can know something horsey but not put two plus two together until some light bulb moment graces upon you. I'm thinking listening to her will provide some great light bulb moments and I look forward to it with great enthusiasm.
If you too are interested in checking it out do it ! And  whether it's this person or someone else's webinar you should always take advantage of the opportunity to increase your own education, no matter who you are. You should hunger for it, thirst for it.
The equestrian life you save just might be your own.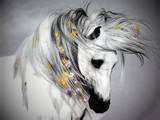 So much as happened with me in the past month it leaves me in a bit of awe.
I've been busy creating and writing for various applications and I'm humbled and honored that my work has gained such wide attention and for most, acceptance.
As I write, my animated "Dressage Queen" has surpassed 14,000 hits which I find positively amazing. When I learned of the caliber of riders seeing it, I was blown away, a little scared even.
For a moment I felt like "What's an ammie like me doing in a dressage world like this?" Then, I figured it out. My voice seems to be the voice of many, so despite my lack of gold medals, my voice and all our voices seem to have some relevance to a lot of people.
I understand that this bestows upon me great responsibility and I will be sure to do my best in my small role within our global equestrian community.


Between animations, blogs and writing articles for publication I certainly have been very busy. But it's a good busy if you know what I mean! I would be remiss if I didn't thank you – all my friends and readers – very, very much for your support. It's truly appreciated.
Like most amateurs, I wish there were more time for riding. Trying to work that delicate balance between all my endeavors is a challenge for me as it is for many of you.
That said, I haven't been able to ride as much as I would normally and haven't done so for a number of months. There have been no lessons, no clinics, and no shows. With cool fall weather to arrive shortly, I wanted to get back into the schwung of things and so have gotten the itch to reverse the trend of not riding.
To that end I recently had a friend video me riding my horse. It was a very easy ride to mark the starting point of another concerted training effort, a beginning for horse and rider looking to resume their former level of performance.
I asked for critique from respected friends and colleagues and today I was able to implement their suggestions.
I found myself very pleasantly having a great ride! I worked my horse nicely forward into our correct tempo, had great rhythm, and I was able to follow him with my body better than I ever had before.
I think Herr Zettl would have been pleased.
The ride was easy. In fact, it was so effortless it felt as if I must be cheating, as if I were doing it wrong. But my horse's responses were telling me it was right…. Gloriously right.
My horse is the boss after all. Like an instrument, if he's played right, we make beautiful music together. I just have to listen to him. Play him wrong and we're a Yoko Ono ballad.
I was loose in the saddle (always a great day when an aging body is able to move and flex freely) and sat an awesome lengthening. It was the first lengthening that felt right. In fact, near the end of the first lengthening I was so pleasantly excited that I stiffened for a moment and lost the oneness with my horse for a moment as I realized that this was the best we've ever been. But then a wonderful thing happened, I was able to correct it without missing a beat, another small personal triumph. I did this just by allowing my knees to flex and follow his body.
I did one more extension, half the diagonal. I didn't want to push things just to see if the first extension was a fluke. I learned it was no fluke. I took a walk break to reflect.
I've never been (on this horse) successful at sitting his big trot before but today it felt as if we were gliding. Please don't understand this to mean sitting the trot to stay on. I'm talking about sitting the trot in a way that you're in perfect unison with the horse for each and every step. Sitting the trot in a way a person could be proud of, and I am.
Listening to my friends and heeding their advice I was able to ride my best and my horse reacted magnificently, lightly, and enthusiastically. Truly it was Nirvana.
The rest of the ride followed suit with everything just flowing. Shoulder fore blossomed to lovely shoulder in. My canter-walk transitions were the best they've ever been, and my downward transitions from trot glided so smoothly and instantly, I was reminded of my reining horse days and the feeling of a sliding stop.
I have found myself actually wondering if I just imagined it. Then I remember to trust my instincts, trust that I know at least this much. Trust that I can tell correctly when things are going good.
Of course now this means I have to get this on video, or else my friends might not believe me!
Reflecting on this ride caused my thoughts to wander. I found myself considering the journey my horse and I have shared. I always reflect on my rides, just as much as I visualize the next one. So much of riding is mental after all.
I thought about our journey and how it had such a rocky start. I considered how easily things flow now. There is no drama. I go to the barn, get the horse, brush him, saddle him up and ride. Our rides go well, sometimes wonderfully. After the ride I care for him, love on him a bit and then put him cozily away. Every day is this way. Every day is easy.
How very fortunate I am.
Later on I was speaking with another friend on the phone and she was mentioning some people she knew and all the drama they are constantly having with their horses. I said "Gee, they always seem to have a problem. Isn't there a day when they or those horses don't have issues?"
Then I thought of my own horse and how things are going so smoothly and how I feel like the luckiest horse person alive.
I'm lucky to have access to friends who are not only knowledgeable but who are friends enough to tell me where I need to improve. Thank goodness they respect me enough to not just blow smoke up my ass, but to tell me how I can get better.
Tomorrow shall bring us another ride, another opportunity. Tomorrow our minds shall join again, and if they join enough, our bodies will follow.
And for this I am excited…… and I should be!